Has anybody out there noticed that the upload speed results achieved using testmy.net are significantly depressed using Google Chrome?
My upload speed is supposed to be 3 Mbits/second. Using Comcast's own speed test and Speakeasy' I typically get results in this range.
But I like testmy.net's approach and have always had great confidence in their results. But since using Google Chrome my results have been less than stellar. This has been since at least the beginning of December 2010. I've been using Chrome for a lot longer than that but I don't know that I was paying particular attention to the upload speeds until recently.
I was beginning to believe Comcast was actually gaming the other two speed test results and hadn't figured out how to mess with testmy.net's. That does speak volumes about my opinion of Comcast. But I was inspired a few minutes ago to crack open Firefox and try the test with them and the results are consistent with those other test sites.
So it would seem that either Google Chrome or my settings for Google Chrome is at issue.
Testmy.net results with Firefox: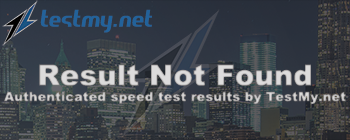 Testmy.net results with Chrome: